Staying Connected: Khaled Quzmar
>>The Link spoke to Khaled, an Irish Aid Fellowship alumnus from Palestine, 10 years after he came to Ireland to study International Human Rights Law at NUI Galway.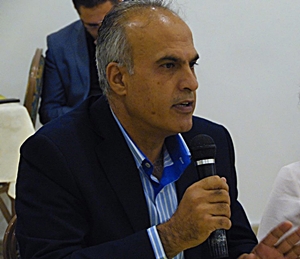 When Khaled Quzmar was 14 years old, his brother was arrested by Israeli occupation forces and Khaled was only able to see him through an "iron net" when he visited. His desire to break through this iron net and give his brother a hug – a simple request denied by the Israeli prison authorities – is what inspired Khaled to become a lawyer: "I found that the only way was to become a lawyer and visit him in prison and hug him inside."
He studied for his law degree at Oran University in Algeria, and returned to Palestine 5 years later to find his brother still in prison. Two days later, he was inside his brother's cell and was finally able to hug him.
For the next 20 years, Khaled continued to work as a defence lawyer representing mainly child prisoners inside the Israeli military courts.
However, after 20 years, Khaled became so frustrated that he felt that he could no longer continue to battle in the Israeli military courts system.
"I got aggressive with my children. I couldn't accept it when I came home after working 10 hours in the military courts, leaving children alone behind bars without anybody to take care of them, subjected sometimes to torture and ill-treatment, while my children asked me to go to a restaurant or to the cinema. So I became aggressive. But then I thought to myself, 'Why am I doing that? Why am I blaming my children? Why am I punishing them?' So I decided to stop working, to have a rest, and to study something."
This was in 2006, and soon Khaled came across the Irish Centre for Human Rights in NUI Galway, and learned of Irish Aid's Fellowship Training Programme. He applied, his application was successful, and "within a few weeks, everything was organised and I had to leave for Ireland." However, while he was excited, it was not easy for Khaled to leave his family behind.
   
"For me, it was a difficult experience because I had children – they were the age of teenagers – and it was not easy to leave them.  It was a challenge for me, but my wife supported me and advised me to go."
    
And so he did. But it was not easy in the beginning for Khaled: "At the time, my English was very bad, unfortunately, and when I arrived, just two days later the semester started and the first lecture – it was about three hours – I understood no more than 10% of what the lecturer was saying and this killed me."  
  
But Khaled did not give up: "I kept studying and struggling." He started a gruelling study schedule, working 18 hours a day locked away in his room, determined not only to keep up with the course materials, but also to improve his English.
    
"I used to sleep about half an hour, one hour, and then back to study, and to study in order to improve my English because on each page I used to find at least 100 words that I did not know. It was a challenge."
    
Khaled's hard work and determination payed off. When his first assignment came around he was expecting to get around 45%. However, when the marks were announced two weeks later, Khaled was shocked when his professor, who he is still in touch with, informed him that he had achieved an A. This set a high bar which Khaled was determined he would maintain throughout his year of studies.
    
When asked where he got this determination from, he laughs: "At the time, my director agreed to give me one year off. But after being in Ireland for two weeks, I heard that he thought I would fail because of my English, and that I would be back after one or two months. So I thought, how can I convince him that I can do it?"
    
Really, though, it was the support from his family that helped him to stay focused, and Khaled spoke with them every day via Skype for only a few minutes before he would say, "Please, stop here because I have to go back to study."
    
Despite his gruelling schedule, Khaled managed to find time to get out of his room and travel around Ireland too. He spoke at universities around the country about his work in Palestine, and he also took part in the Famine Walk, which commemorates the mid-19th century Great Famine that took place in Ireland.
    
"I participated in the Famine Walk, and afterwards I made a speech about Palestine, and during the Walk I was sharing my experience with different participants from all over the world. As a Palestinian, it is a good experience to hear about Ireland's history and experience. We have been under the Israeli occupation for about 60 years, but Ireland stayed about 700 years under the British occupation."
    
Khaled also found some time to relax on his travels, recalling the three days he spent on the Aran Islands after submitting his last assignment as "three days I will never forget."
    
When Khaled returned to Palestine after his studies, he came back "with a new vision, a new mission about human rights issues, about international law, humanitarian law, human rights law." He had a new understanding of the Israeli military court system; that it was a political court "so far from the fair trial standards… It is designed to punish, not to obtain justice; it is to legitimate the Israeli violations and crimes against the Palestinians."
    
Now, 10 years after his studies in Ireland, Khaled is the director of Defence for Children International (DCI), Palestine – a position he obtained in 2014, and which he believes he would not have achieved if not for everything he learned during his time at the Irish Centre for Human Rights in NUI Galway.
    
Khaled is also working to pass on what he learned to the next generation, establishing the Palestinian Child Rights Council, which works with around 5000 Palestinian children to teach them their rights, and also to teach acceptance of others in an attempt to divert them away from the ideologies of groups like Islamic State operating in the Middle East.
    
He explains that his work with DCI Palestine involves two main programmes. "The first is on the Israeli side, defending the children in the Israeli prisons, monitoring the situation and conditions where they are living inside the prisons. "Second, we monitor the violations against children and use this in our advocacy at the international level."
    
There are many challenges in Khaled's work: "First of all, the continued occupation is a big challenge for us because when we started, this field used to represent 200 children in the Israeli prisons – unfortunately the number is increasing instead of decreasing. Violations are continuous and increasing and escalating. Our work is continuous. Sometimes you think these cases are without end." Khaled recalls that the latest available statistics recorded around 440 children in Israeli military prisons, but insists that at least 1000 Palestinian children go through Israeli prisons each year.
    
"The other challenge is that all of the Palestinian children in prison are inside prisons inside Israel… So I myself am deprived from having permission to visit them in the prison, and it's the same for other Palestinian lawyers, so we have to hire Israeli lawyers in order to continue the work."
    
Khaled repeats again and again over the course of our interview how grateful he is for the opportunity provided to him by Irish Aid, and how his time studying in Ireland has helped him with his work in Palestine.
    
He recently met with Ireland's Representative in Ramallah, along with other Irish Aid Fellowship alumni, where he expressed his wish to maintain links with Ireland. He also hopes to send his son to Ireland under the Fellowship Training Programme, because Khaled would like him to benefit in the same way he has.
    
"I believe education in Ireland is well known, and I myself consider it among the best in the world, so to have a degree from Ireland… it is not easy to have it. Many thanks to Ireland."
Khaled was interviewed via Skype in November, 2016