MSc in International Public Policy and Diplomacy, UCC
Vathida was awarded a  fellowship in 2020 on the Ireland-Asia Fellows Programme.  She has been working in the ASEAN Department at the Ministry of Foreign affairs of the Lao PDR since 2014 focusing on issues related to the ASEAN Political and Security Community.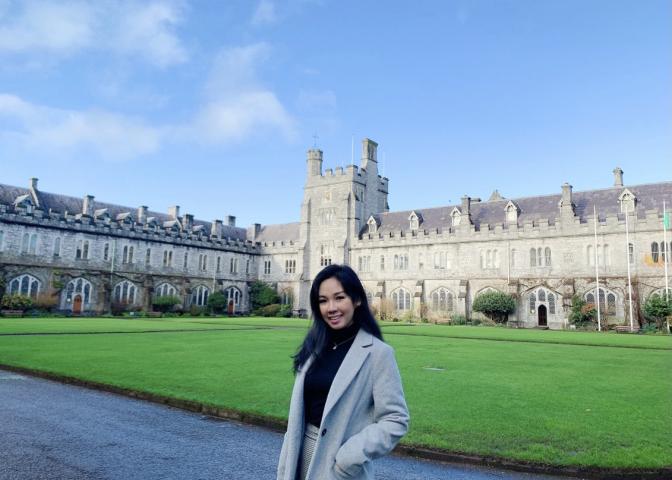 The Ireland-Asia Fellows Programme has given me a unique opportunity to develop my academic and professional skills. It is my great honor to be the first recipient of this prestigious scholarship from Laos, especially being a woman. I chose to study the MSc in International Public Policy and Diplomacy at UCC as although it is a complex course, it is highly relevant to the current global and regional political landscape. The course allows me to explore policy issues as well as theories and practices of international relations and diplomacy. It has helped me to increase my knowledge, develop new ways of thinking and deepen my understanding of contemporary global politics.  
Being categorized as both landlocked and a least developed country, Laos encounters numerous development challenges. It is severely affected by the legacy of the Indochina war which saw more than two million tons of bombs dropped on Lao soil. With limited human resources and financial capacity, addressing these unique challengs is an uphill task. Therefore, we try to enhance development cooperation and friendly relations with all nations. Laos is an active member of both ASEAN and the United Nations. I have been working in the ASEAN Department at the Ministry of Foreign affairs of the Lao PDR since 2014. My main focus is on issues related to the ASEAN Political and Security Community, one of the main pillars of the ASEAN Community building effort. It helps foster constructive consultations on political and security issues of concern among ASEAN Member States and their Dialogue Partners.    
 Since moving here, I have found Ireland to be a warm, loving and beautiful country with rich history and unique culture. It's a hidden gem! I recall that as a young student, I always wanted to discover this part of the world. I am delighted that today I am finally here.  I have felt the friendliness and kindness in the Irish people who welcome foreigners with sincere smiles and who will always stop when asked for help. A special thing about Ireland is the food. To me Irish dishes are among the best in the world using only good produces found in the local markets so that freshness and quality are always guaranteed. I already foresee that, upon completion of my study, Ireland will be one of my most favourite travel destinations. I will never hesitate to call it my second home. 
Settling into a foreign country is not easy, but I am adjusting quite well. The current pandemic has posed unexpected challenges. Virtual learning was totally unfamiliar to me. I was concerned that I would not be able to catch up with other students and that I would miss everything on the dashboard but our lecturers never leave anyone behind. I am grateful to all the supports extended by our professors, the university as well as classmates. I never feel alone even though we are practising social distancing!    
My dissertation topic will focus on implementing the UN 2030 Agenda for Sustainable Development in the Laos development context. Laos is a strong promoter of key International Programs of Actions, namely programmes which focus on Least Developed Countries and Landlocked Developing Countries. Our Government has embraced the SDGs and integrated the targets into our National Socio-Economic Development Plans (NSEDP) with the aim of graduating from least developed country status in the near future as well as transforming the country from being landlocked into a land-linked nation, serving as sub-regional logistical hub. Our Government adopted the national SDG18 entitled "Lives Safe from Unexploded Ordnance-UXO". It addresses the impact of Unexploded Ordnances (UXO) which continue to harm our people. The UXOs prevent our country from attaining faster economic development and hinder our people's "right to development". I plan to focus on the UXO impact on sustainable development, mine clearance, international cooperation and assistance needed from both local and international partners. Ireland is a major partner in the implementation of our national SDG18. I hope to see my country develop in the same direction as Ireland, moving towards a sustainable and environmentally friendly development path.  
My main objective is to become a diplomat with a strong academic background and capability which enables me to make a greater contribution to the work of the Foreign Ministry. In the medium-term, I hope to be promoted to mid-level management eventually leading to a more senior level. My ultimate goal is to represent my country at senior ambassadorial level. My experience gained in Ireland will prepare me for future postings abroad as I will become more resilient and able to adapt in new challenging working environments.  
Being the first Ireland-Asia fellow from Laos is my great honour and pride. This is a unique experience which I would not hesitate to recommend. I hope to share my knowledge and experience with other junior colleagues, especially young women. I am confident that there will be more successful candidates from Laos. This will contribute to further strengthening of friendship, cooperation, and people to people connection between our two countries, Laos and Ireland.