Staying Connected: Jeremiah Ben Mumandwe Sakala
>>The Link spoke to Jeremiah five years after he came to Ireland to study on the MEngSc in Sustainable Energy at University College Cork. Jeremiah works as a WASH Project Manager at World Vision Malawi.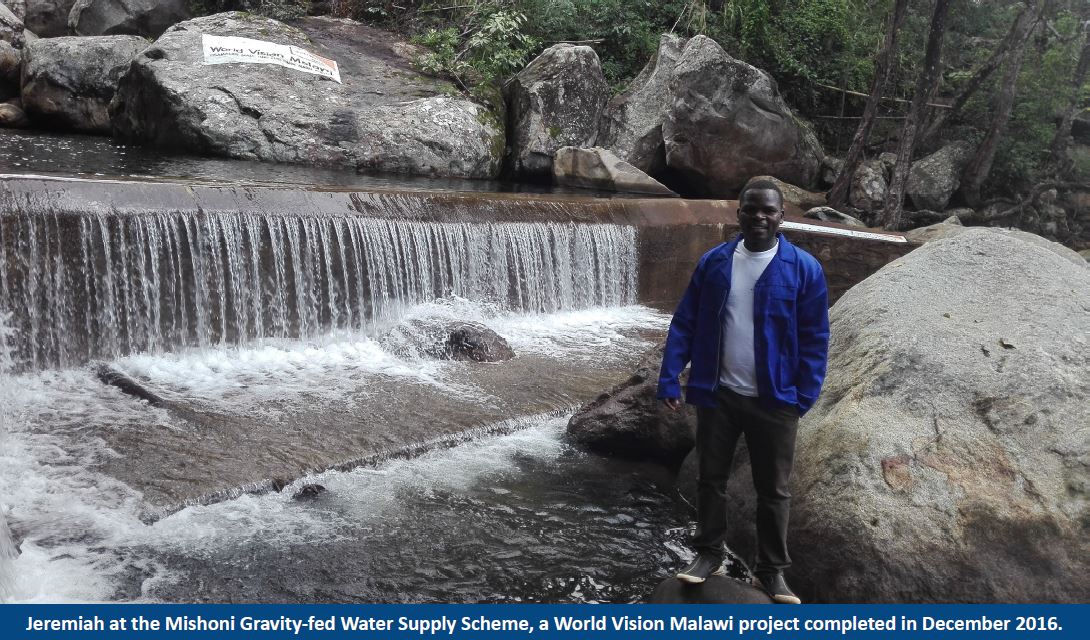 Before coming to study in Ireland under the fellowship programme, Jeremiah worked for Concern Universal as an engineer, managing construction works related to improving Malawi's water and sanitation infrastructure.
He had studied mechanical engineering for his undergraduate degree, during which his main interest was in energy issues. With the focus of the government in Malawi turning ever more towards issues surrounding energy supplies, energy security and climate change, in 2011 Jeremiah thought it was the perfect time for him to apply for a masters in the area that interests him most.
Having been awarded a fellowship, he applied to the MEngSc in Sustainable Energy at University College Cork (UCC) in the south-west of Ireland. "The knowledge that I expected to get from this course I thought would enable me to deliver any projects better than I could at that time because after the course I would have acquired better knowledge, which would be better for planning as well."
Thankfully, Jeremiah's course lived up to his expectations: "The modules were all exciting, and I also found the staff very encouraging … There were not so many of us doing the masters – maybe 15 or so – and the guys I met, especially the Irish guys, were so good. I didn't take too much time to settle in.
"I thought I would be doing electronics, something mechanical … but I found the course so diverse in terms of the modules. Climate change issues were incorporated in almost every module and, instead of just thinking about energy generation, we were also trying to explore ways to link energy projects with the populations that would be served – the social factors – and it gave me some better perspective on how engineering projects are planned."
Upon completing his studies, Jeremiah returned to his role at Concern Universal in Malawi and was promoted a short time later. However, wanting to put to use everything that he had learned at UCC, Jeremiah soon began to look for new opportunities and has now been working at World Vision Malawi since August 2015.
"At World Vision I am managing a water, sanitation and hygiene project where we are working on water supply with a number of technology mixes. For example, to pump the water we are installing solar-powered pumps. Before I only had basic information about solar energy, but now I am so comfortable incorporating solar energy into water supply projects.
"I am also using knowledge about hydropower that I learned at UCC to improve how we supply water to rural communities – my research topic was about pumps and hydroelectric power and energy storage."
However, Jeremiah's ambitions do not end there: "I am very much interested in the scaling up of bioenergy services in Malawi. If we are able to generate power from gas, from biomass, we will be able to reduce issues of climate change, and we will not be felling so many trees. Gas is more efficient … With firewood, most of the energy is wasted – it is difficult to focus the energy into what we want."
Jeremiah still has contact with his classmates and lecturers at UCC, and he has some advice for Irish Aid fellows who are about to complete their courses in Ireland shortly: "After finishing, it is important to keep in contact with fellow classmates as well as the teaching staff, as they may be required at some point in time when you get back to work. There are some things you will see differently when you are in school compared to when you are on the ground in the community, and you might need their expert advice and to learn from their experiences, as they are people who have been there before."
On his hopes for the future, Jeremiah proclaims that he is "always optimistic" while also recognising that there are always challenges and frustrations along the way. "I'll continue on my path because I want to do a lot more in the energy sector. I'll go entrepreneurial, apply my knowledge to create jobs for myself and for other people, probably around bioenergy interventions. And when the opportunity comes I will probably also go for a PhD – that has been a dream for some time.
"But for Malawi it is not all rosy. We are developing at a very slow pace, especially in the energy sector. Our main energy source in Malawi is hydroelectricity, but hydroelectricity only reaches to less than 15% of the population. And the reason is that we are not diversifying enough.
"In Ireland, there is wind energy, there is a little hydro, there is gas, there is coal, but for Malawi it is only hydro. And if we talk about energy security, Malawi is not secure. If anything happens to the water we rely on we are doomed. Just last year some of our lakes dried, or the levels dropped … What if we don't have rains for 4 or 5 years in a row? It means we won't have energy.
"If we diversified we would have more power, it would reach more people than we are doing now, and there would be positive effects for climate change because we would be cutting down fewer trees … Others are thinking along the same lines. I hope someday we get there."
Jeremiah was interviewed via Skype in May 2017.