Introducing the Irish Aid Roger Casement Fellowship for Nigeria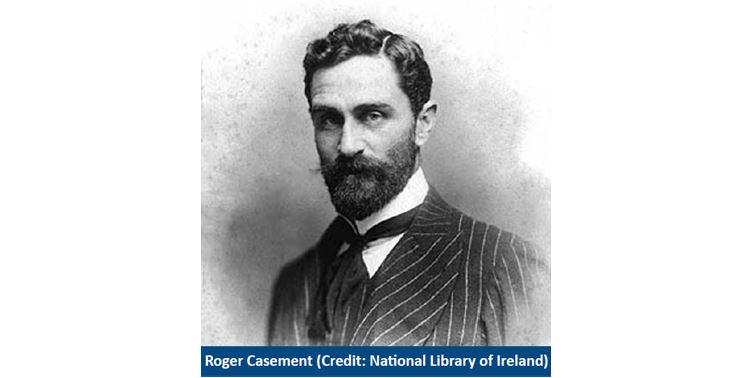 In 2016, Seán Hoy, Ireland's Ambassador to Nigeria, announced a new fellowship strand: the Irish Aid Roger Casement Fellowship in Human Rights. This fellowship strand will offer Nigerian citizens the opportunity to study in the area of legal studies at an Irish university at postgraduate level, thus enabling them to carry on the humanitarian legacy of Roger Casement. Below is a brief account of his life and work.
Roger Casement was an Irishman who, while probably best known as a revolutionary in Ireland, is also well-known as a humanitarian, mostly due to his work in the Congo, where he revealed the injustices perpetrated by the private sector against the indigenous population. However, what is less known is that Casement began his African journey in West Africa and served for a number of years as a diplomat in Calabar in Nigeria.
Casement began his journey to West Africa at 15. He did not travel to find his fortune as many other European travellers to Africa did at the time. Rather, he absorbed the environment he lived in and he came to respect the people he lived among.
He encountered many difficulties as a public official in Calabar because he tried to raise the voice of local people. Casement's biographers describe a man who struggled all his life, caught between his humanitarian drive to support the poor and voiceless in Nigeria, Congo, the Amazon and Ireland, and the personal cost that he suffered for his efforts.
Casement was knighted in 1911 for his work with the British Foreign Service, but resigned from the Service shortly afterwards in 1912. He became deeply involved with the Irish Volunteers – a group dedicated to Irish independence from the United Kingdom – helping to organise the importation of arms into Ireland in 1914. He was also deeply committed to Irish culture and the Irish language.
He gained the trust of the leaders of the Easter Rising in Dublin in 1916 and committed treason by making contact with the German forces in an effort to send both prisoners of war and guns to Dublin. He was caught attempting to import arms to Dublin in 1916. He was subsequently stripped of his knighthood and executed along with other leaders of the Rising.
Today, Casement is remembered in some of the best literature on Africa and Ireland. He was an acknowledged influence on Joseph Conrad, author of Heart of Darkness, and is referenced in James Joyce's Ulysses.
In his Amazon diaries, he described atrocities he witnessed as 'a crime against humanity', one of the first recorded usages of this phrase, which later attained legal status in the Charter of the Nuremberg Tribunal and again in the Rome Statute of the International Criminal Court.
In 2016, Dan Mulhall, Ireland's Ambassador in London at the time, wrote about Casement's legacy: "I like to think that Casement's internationalist legacy is reflected in Ireland's contemporary profile, in our commitment to human rights, to UN peacekeeping and to the provision of high-quality development assistance, mainly in Africa where Casement registered his greatest achievements."