Spotlight on: Agriculture
A feature series in »The Link taking each of Irish Aid's thematic priorities in turn
Irish Aid's support to Agriculture is a key element of its commitment to tackle global hunger. The 2008 Hunger Task Force Report recommended that Ireland focus on three areas to address global hunger: improving agricultural productivity of smallholder farmers, particularly women, in Sub-Saharan Africa; targeting maternal and infant undernutrition; and promoting political commitment and leadership to tackle hunger.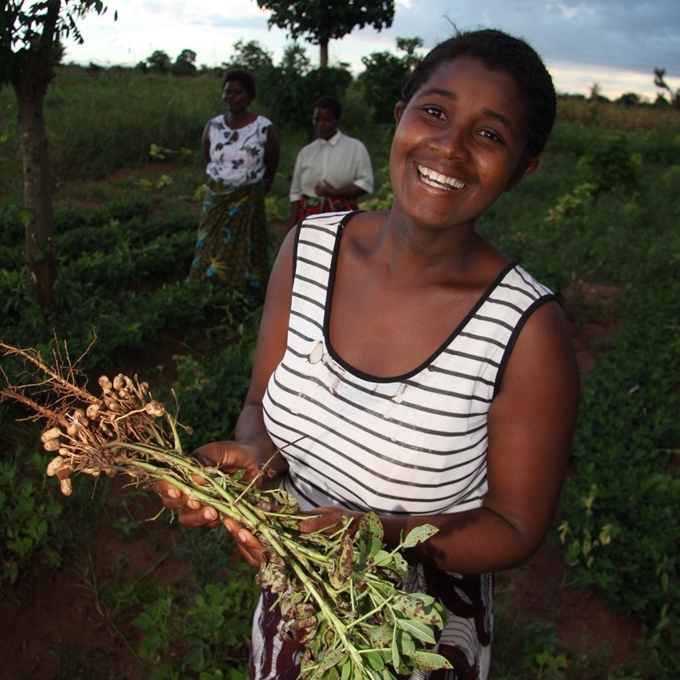 Malawian smallholder farmer  Agnes Malcolm-Kondani. Through the support of Irish Aid, she now grows groundnuts, which are both nutritious and help combat the effects of climate change through improving soil fertility.
Irish Aid supports a broad range of initiatives in the agriculture sector, through government, multilateral organisations and civil society. Its six areas of focus are: International and national-level coordination; Scaling up of pro-poor agricultural research; Strengthening smallholder farmer associations; Improving links to the private sector; Supporting improved land rights; and Supporting access to improved inputs and financial services.
Across all of these areas, Irish Aid has three priorities:
Climate-smart agriculture
The effects of climate change are already being experienced by many farmers in developing countries. Irish Aid supports agricultural practices which can both adapt to and mitigate climate change. These include agroforestry, drought and flood resistant seeds, sustainable livestock schemes, conservation agriculture, intercropping legumes, terracing, and water management schemes.
Nutrition-sensitive agriculture
Too often, agricultural programmes are focused on increasing yields of staple crops, rather than the production on a diverse range of crops and livestock which would provide adequate nutrients for a healthy diet. Irish Aid supports farmers to diversify to more nutritious produce such as legumes, potatoes and livestock, as well as biofortified crops such as quality-protein maize, iron-rich cassava, and Vitamin-A rich maize and sweet potato. It also works with national governments and multilateral agencies to ensure nutrition is seen as a key objective of agricultural programmes.
Gender-sensitive agriculture
While the majority of smallholder farmers in Africa are women, they rarely enjoy equal access to farm inputs, training, financial services or land rights. Irish Aid prioritises women in its support to agriculture, and supports programmes which have specific plans to ensure women have equal access to resources, and which include gender-specific indicators and gender-disaggregated data.
EXAMPLES OF IRISH AID SUPPORT TO AGRICULTURE
Tanzania - support to the government to implement the Agricultural Sector Development Programme.
Mozambique - support to smallholder farmers to produce and sell Vitamin-A rich Orange Flesh Sweet Potato.
Malawi - promotion of several climate-sensitive farming practices, such as conservation agriculture and agroforestry.
Malawi and Tanzania - support to the national smallholder farmer associations, NASFAM and MVIWATA.
Tanzania, Malawi, Ethiopia and Uganda - support to African radio stations to produce farm programmes to educate smallholder farmers on new farming techniques and seeds.
At a global level, support to agricultural research to develop bio-fortified/nutritious crops and to examine the links between climate change and agriculture.
Support to the International Land Coalition to advocate for the land rights of smallholder farmers, particularly smallholder women farmers.