Returned fellows invited to IDEAS exchange
The Embassy of Ireland in Vietnam reports on a meeting in September 2012 with Irish Aid IDEAS fellows who had just returned to Vietnam after a year studying in Dublin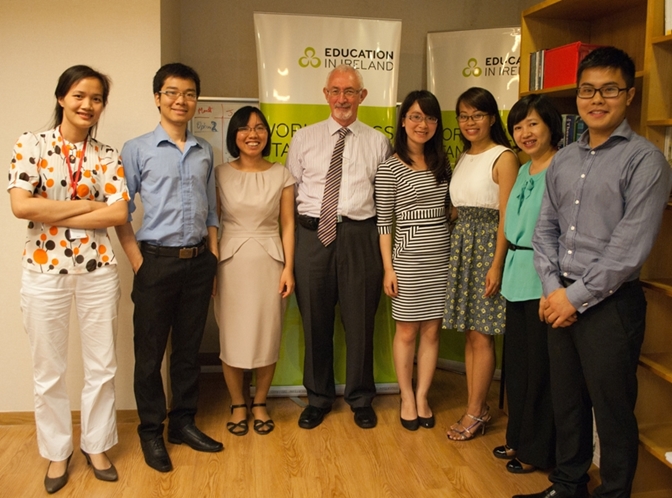 2011-12 IDEAS Fellows pictured with Embassy Staff - Left to right: Nguyen Mai Chi (Embassy), Pham Tung Lam, Le Thi Kieu Huong, Garvan McCann (Deputy Head of Mission), Nguyen Khanh Linh, Bui Thi Hien Anh, Nguyen Thi Huong (Embassy), Nguyen Manh Hung
The purpose of the meeting was to welcome the returned IDEAS fellows back to Vietnam after their studies in UCD, to learn about their experiences during the year studying and living in Ireland, to hear about their future career plans, and to exchange ideas on ways to improve the IDEAS scholarship application, recruitment, and advertisement process.
5 of the 7 IDEAS fellows based in Hanoi came to the de-briefing - Nguyen Manh Hung, Le Thi Kieu Huong, Nguyen Khanh Linh, Bui Thi Hien Anh and Pham Tung Lam.
The fellows highlighted the strength of the IDEAS scholarship programme as unique in providing opportunities for people working in the private sector to access scholarships and were attracted by the high ranking of Smurfit School and the intense but convenient one year length of the programme which is suitable for busy career people. They also considered that there were relevant courses available under IDEAS that other scholarship programmes do not offer.
The living and studying environment were remarked upon as diverse and friendly. The fact that English is the first language in Ireland and its location in Europe – allowing travel opportunities – also attracted the students.
Nguyen Manh Hung, who successfully completed a Masters in Finance, shared his reasons for choosing to study in Ireland: he was offered two scholarships at the same time, one from Irish Aid and one from AusAid. He chose to take the Irish Aid IDEAS scholarship because of the very high ranking of UCD's Smurfit Business School. His course, ranked 30th in the world and his background research indicated that no school in Australia matched this ranking. He said that Ireland's location in Europe makes it more interesting to study in Ireland and is an advantage over Australia and New Zealand for those who want to spend time to explore Europe.
Fellows also spoke highly of the services provided by the Irish Council for International Students (ICOS) and the assistance given by the Embassy.
According to the fellows, areas that Ireland needs to improve include increasing awareness of Ireland in Vietnam, promoting the high-quality Irish education in Vietnam, starting the scholarship application process earlier in order to compete with other scholarship programmes and providing more flexibility with regards to accommodation particularly in the last semester.
Social networking and word-of-mouth advertising through the alumni network were considered the best ways to market Irish education. The fellows expressed their appreciation to the Embassy for facilitating their study in Ireland.
They all had a memorable and enjoyable year. They learned a lot and enjoyed visiting Ireland and neighbouring countries. They want to maintain the long-lasting relationship they made with new friends during their studies, Irish and international students alike and consider that these contacts may be useful to them in their future careers.